As of this Wednesday, January 30th, Will and I have been a couple for 10 years. It's hard to believe it's been that long since Will picked me up in his old Volvo after my all-county chorus practice and we went to Ruby Tuesday for dinner and saw Phantoms afterward. A lot has changed since then. We used to repeat our first date every year, but that movie theater is now super-ghetto and we don't go there anymore. We also don't go to Ruby Tuesday anymore, since they can't seem to make any food (including steamed broccoli) without dousing it in butter before serving it. We celebrate our anniversaries a little differently now.
First of all, we have to find a babysitter to celebrate these days. We left Emily with my mother...I guess that's one good thing about Emily deciding to almost completely wean herself early, it makes it easier to go away for any amount of time. This was my second night ever spent away from her, and it's still very hard.
We really enjoyed our stay at the Fairmont Mayakoba in Mexico last year, so we decided to stay at the Fairmont in DC and it was fantastic! Free breakfast buffet,
afternoon tea
, hot hors d'oeuvres in the evening, and even chocolate fondue at night, although we were out and about at that point so we missed it :-( The best part though was when we returned to our room after turn-down service had been there, and were greeted with rose petals in a heart shape on our bed:
and a bottle of champagne chilling in an ice bucket (and yes, I mean champagne, not sparkling white wine!) with a personalized and signed anniversary card.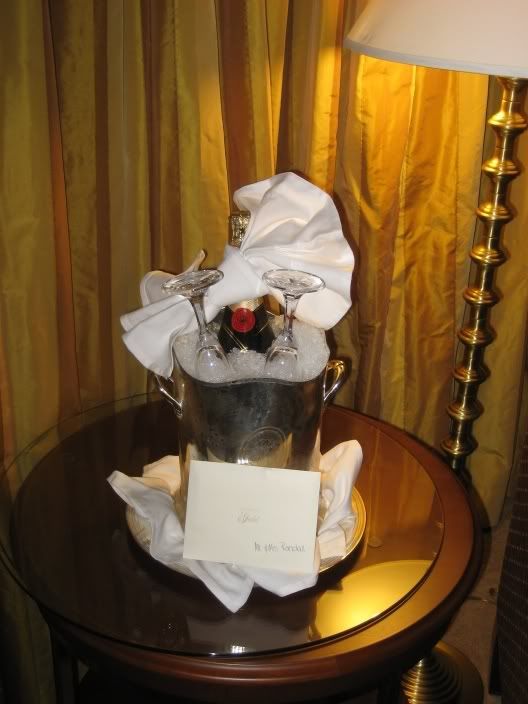 Gotta love it!
We went to dinner at
Zaytinya
, which is a tapas-style Lebanese/Turkish/Greek restaurant and is rated as the #1 restaurant in DC on tripadvisor. It was really good...nothing to complain about at all, but I just expected more based on the fact that it was #1 out of thousands and the chef had lots of accented letters in his name.
After that we did a limo tour of the DC nightclubs. We hit
Hudson
first, where we got into an argument with the bartender. I ordered a "Lo-jito", which is an 80-calorie drink made with splenda syrup and low-cal rum. We watched him put 3 sugar cubes and Cruzan rum in my drink, and when we asked him about it and pointed out that it says on the menu that it has syrup and not sugar cubes in it he got defensive and said that the only difference was the rum. Funny, he put regular rum in my drink too. And besides, that would have to be one seriously weak drink, considering that each sugar cube is 25 calories, leaving for only 5 calories worth of rum. We eventually gave up, and I grudgingly drank the nastiest (and most expensive) Mojito I've ever had.
Next we went to
Fly
, which is a airplane-themed nightclub. Once again, my drink was messed up, but oh well. It was a neat place, probably my favorite of the night. After that was
Ultrabar
, which had a $20 cover and a line wrapping around the block but was actually a fairly unpleasant experience. It was hot, loud, packed and disorienting. They were playing Oceans 13 on a screen on the wall though, so I passed my time watching that. There was no sound, so all I know is that there's a blonde lady who is all about Matt Damon even though he has a huge fake nose.
Last was
1223
, which was billed as a "Champagne and Caviar bar", but was fairly indistinguishable from any of the other places we went. We could have gone across the street to Club Five after that, but it was 1AM and for this mama whose bedtime is 9, that was late enough already!
I make it sound bad, but we did have a good time on the tour overall, the company was good and the price was totally worth it. I was just a little bit underwhelmed with the DC bar scene.
After messing with the metro again on the way home, a tasty lunch at Lebanese Taverna in Rockville and a quick stop at Whole Foods and Buy Buy Baby, we were home! A whirlwind tour, but we packed a lot in and I've actually never spent the night in DC before so that was neat.
So now we've officially celebrated our 10th anniversary in style...our 5th wedding anniversary happens this year too, so we'll have to think of something fun to do for that as well. By that point Emily should be completely off the milk and formula, so no lugging the breastpump along and limiting my number of drinks on our romantic weekend. I won't know what to do with myself :-)
-Sara