Safe Start Baby childproofing company can. And that price is just shy of $2000.
As a Christmas present to us my mother-in-law is having our house babyproofed. It's right up her alley, because she is extremely careful about child safety. In fact, if she takes a look at my fireplace (which boasts genuine foam fireplace guards purchased from a well-respected childproofing catalog) and tells me one more time that when SHE was raising babies in this house she duct taped a comforter to the hearth just to be extra super careful and I should do the same thing, I am going to duct tape a comforter to her head. Nevertheless, the thought of spending days changing outlet covers and bolting bookcases to the wall myself makes me yawn in irritation, so last week we had a consultant come and write down every.single.thing that could be done to make our house 100% safe for a baby. They send an estimate after that, and you choose what things you'd like them to do and what things you think you can do without. I truly believe you could babyproof a lion's cave for less than $2000, so what does that say about the dangerous pit of despair we must live in?
I spent some time today crossing things off the list like "Swivel latch - 16 - $32.00" "Swivel latch labor - 16 - $104". Yes, they charge $6.50 to install a $2.00 piece of plastic...16 times. I am not a person to be free with someone else's money (unless it is a business' money, in which case I view it as the best way to travel), so I pared the list down to what I believe is a good balance between things I REALLY don't want to do and a cost that I don't see as being TOO exorbitant. But hey, I guess everybody gots ta get paid. And I'm sure their insurance is through the roof.
So tomorrow, the babyproofers will descend on my house and make it fit for baby habitation. I think I'll need to host a lot of playgroups here to make it worthwhile, but really, who can put a price on the safety of your child? I find that statement to be INCREDIBLY misleading. It insinuates that by not spending this money you are putting your child in direct danger, whereas what you're really doing is buying peace of mind. What are the chances that your child will ever try to insert his or her chubby little finger into the outlet in the master bathroom? You never know of course, but as we don't plan to allow Emily into the master bathroom unsupervised until she is old enough to know better (and after tomorrow we will have childproof doorguards on both the master bedroom and bathroom doors) I feel it is a "safe" risk to take. But based on the title of my post (which many people like to throw around when it suits their purpose) I am being cheap by trying to save money and making my child less safe.
It is a very nice thing that my mother-in-law is doing for us though, and necessary too, as Emily has made a mockery of our attempts at childproofing so far: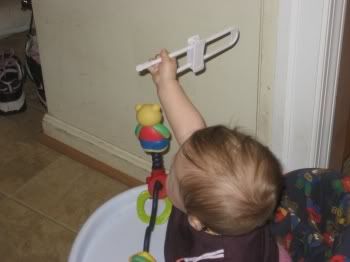 -Sara